Try our mobile app (also available in iOS)

Corona Virus (CoVid-19) Update: 07/01/2020

Faith United is now open for worship. Our service times have changed. We currently have services every Sunday, at 9:00 am & 11:00 am. Seating is being kept limited to maintain safety for our all guests. Face masks must be worn at all times while inside any part of the facilities. All visitors are welcome and will be seated as spacing allows.
Please visit us on our mobile app, "Our Church", available for Android and iOS. All the information on this Web site is available on the mobile app.
The church office is open BY APPOINTMENT ONLY  Monday through Friday, from 10:00-3:00. Please do not just drop in unannounced. You may continue to send your giving via the post office or our PayPal option on the "Giving" page.
If you have someone you would like included on our prayer list, please click on the link below or use the form on the Prayer Wall page.
If you have any questions at all please do not hesitate to contact the office.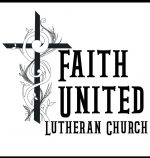 See what God can do through you
Worship Times:
Sunday Worship - 9:00 am & 11:00 am

The people who walk in darkness Will see a great light;
Those who live in a dark land, The light will shine on them.
Isaiah 9:2
Covid-19 will not define who we are.
Please. Remember that, just because society is beginning to get back in motion, you still need to practice the same CDC safety guidelines you did when we were under lock down. Wear a face mask when out in public. Wash your hands and/or use hand sanitizer frequently throughout the day. You are protecting everyone, not just yourself.