Corona Virus (CoVid-19) Update: 03/30/2020

To comply with Federal, State and Local government restrictions, Faith United has now cancelled all worship services until further notice. Please note that whatever the 1st Sunday that we are allowed to worship together is will be Easter Sunday.

The church office is closed. Please leave a message on voicemail.

All activities, including community meals, at the church are cancelled until further notice
If you have reserved Luther Hall for a private event, you are asked to cancel your plans until the "Stay Put" order is lifted.

The pastor and congregation hope all in the community practice all safety measures to protect themselves and those around them. We include all in prayers as well. Have a blessed day.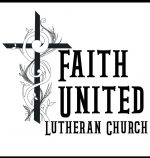 See what God can do through you
Worship Times:
Sunday School for All Ages - 9:00-9:45 am
Sunday Worship - 10:00 am
Saturday Worship - 4:00 pm
Wednesday Lenten Worship - 7:15 pm

If you are as bored as I am, here are a few things to do while you're stuck at home.
Here are some links to a few things you can do during this quarantine period. Click any one to be taken to that document. Try not to use Google when answering the quizzes. The answers are posted separately, so don't cheat.

If you have any other ideas or some things you've been doing, share with everyone on our Facebook page.