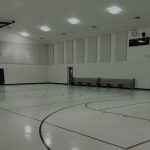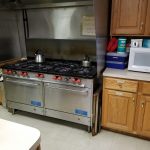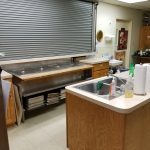 Faith United has a large multi-purpose room, Luther Hall, which is available for rent for birthday parties, sports activities, baby showers, family gatherings and much more. Luther Hall is approximately 75' long by 50' wide and can hold approximately 250 people. The photos above will give you some idea of the space available.
We have tables and chairs for you to use, which are included in the cost of the rental. There are both round and rectangular tables. We also have a full-sized commercial kitchen you may use, although we do ask that you bring your own utensils and cookware. Note - if all you need is somewhere to keep things cold, it is recommended that you bring coolers with ice, as you will have to pay the full fee for the use of the kitchen if you request a key.
Weddings and funerals can be held at the church at the pastor's discretion. We have two rooms available for these services. The Sanctuary holds approximately 300 people. Faith Chapel is smaller and can seat up to 50 guests comfortably. The Fee Schedules for these services are available as well.
You find links to our Building Use Policy and our Fee Schedule at the bottom of this page. Please note that any sporting activity groups must provide a Certificate of Coverage or have everyone planning on playing sign the "Hold Harmless Agreement". Please read through our Building Use Policy carefully to be aware of any restrictions or requirements.

Please call the church office, (419)473-1369, or use the Contact Us form to see if the date you would like to use the hall is available. It is a popular event location, and it tends to book very often.